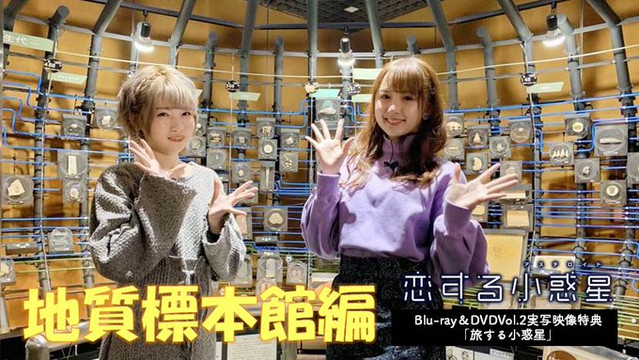 As reported, Tomoyo Takayanagi (Mira Konohata) and Megumi Yamaguchi (Ao Manaka) visited JAXA's Tsukuba Space Center, Geological Museum, and The Science Museum of Map and Survey in Ibaraki Prefecture for the bonus footage to be included in the three DVD/Blu-ray volumes of the Koisuru Asteroid / Asteroid in Love TV anime. Those three facilities were also visited by the anime characters in the fourth episode.
Following the first clip introducing JAXA, the anime's official website has posted a three-minute preview video for the two's Geological Museum tour for the DVD/Blu-ray second volume to be released on April 24. In the clip, they found a 4.98-carat diamond, the heart-shaped quartz that appeared in the anime story, and Allosaurus' fossil footprint.
---
Meanwhile, the newly-drawn digi-pack illustration drawn by the anime's character designer Jun Yamazaki is revealed for its March 25, 2020 release in Japan.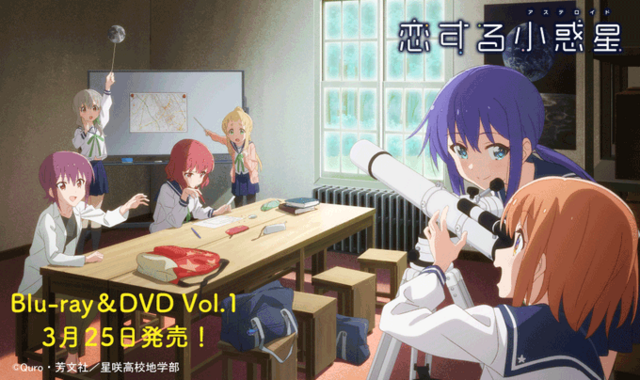 ????????BD&DVD Vol.1 ジャケット公開????????

TVアニメ「恋する小惑星」BD&DVD Vol.1の描きおろしジャケットが公開‼✨

部室に集まる地学部員たちと遠藤先生????
楽しい会話が聞こえてきそうな素敵なイラストです????

BD&DVD Vol.1は、3月25日(水)発売です????????????https://t.co/jkQmxCIWTt#koias pic.twitter.com/SLz1xdwjPb
— TVアニメ「恋する小惑星」公式ツイッター (@koiastv)
February 28, 2020
On the same day as the DVD/Blu-ray first volume, the "Asteroid in Love Sound Collection" album will be also available.
CD jacket illustration:
---
The Daisuke Hiramaki (Wataten!: An Angel Flew Down to Me)-directed slice-of-life series premiered in Japan on January 3, 2020, and has been simulcast on Crunchyroll to its members in Nortth America, Central America, South America, Europe, Africa, Oceania, and the Middle East.
Official trailer:
Key visual: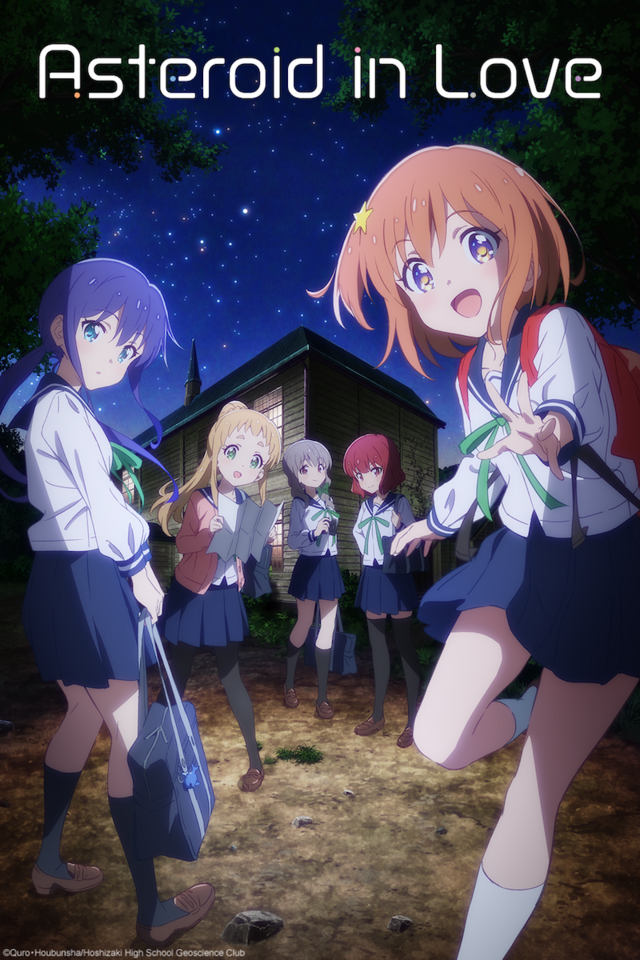 Synopsis:
When she was little, Konohata Mira promises a boy she meets at a campsite that they can find a galaxy together. When she enters high school, she joins the astronomy club. But that year, the astronomy club happened to combine with the geology club, making it the astrogeo club?! Won't you find all kinds of sparkles with the astrogeo girls?
---
Source: TV anime "Asteroid in Love" official website / Twitter 
©Quro, Houbunsha/Hoshisaki High Earth Science Club